Online Training
Instamation Systems, Inc.'s online training program is the perfect solution for plants needing to train new users of Redtag pro or sharpen old user's skills and knowledge. Courses from Instamation Systems, Inc. help to fulfill your yearly LOTO procedure training issued by OSHA. They allow plant workers to learn independently, when they want, in as short of periods as they want, and in any location with a computer and internet connection.
Click here to try a DEMO of the online training.
Features of online training include:
Extensive Training at a Fraction of the Cost - Online courses cover everything a Redtag pro user or administrator needs in an easy-to-learn format with an affordable per student cost.
Training Anywhere at Anytime - Since courses can be taken from any computer with a web browser and internet connection, students can view training individually anywhere and at anytime without prior planning or scheduling.
Learn Interactively - Redtag pro online courses teach through interactive means, including streaming videos and tests with immediate feedback.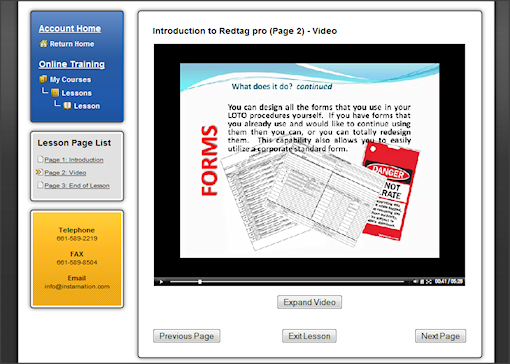 Learn by watching step-by-step tutorials and videos.
Test a Student's Knowledge - Every course includes an assessment test for each lesson and a final exam to check the student's comprehension of key points.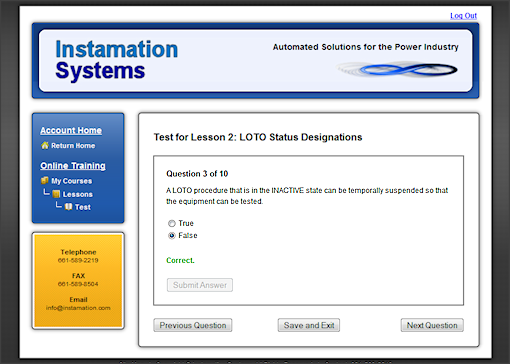 Online tests help students assess their understanding of key concepts.
Printable Certificates of Completion - After completing a course, the student can print a customized certificate showing that he or she is Redtag pro certified.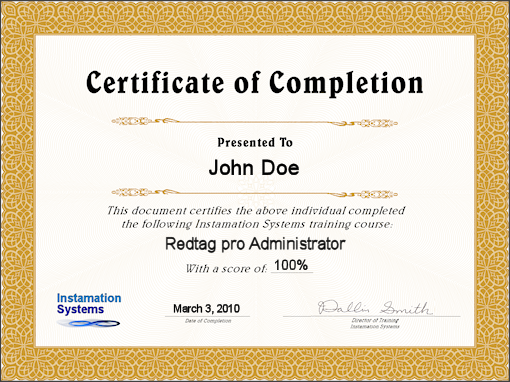 After completing a course a student can print a certificate showing their score.
To sign up individuals for Redtag pro online training courses, please contact us at support@instamation.com or 661-589-2219.