Printing Solutions
Use our software's built-in forms designer to create/design ALL the forms that you will use in your LOTO procedures and PERMITS. The software can then print your forms to any Windows compliant printer.
Typically, the regular forms will print to a printer such as a laser printer that supports standard Letter or Legal sized paper forms. Tag forms can be printed to your laser printer using sheet tag forms or to specialized tag printers. Our software makes this task quick and easy to accomplish.
If you already have a tag form solution and you wish to continue using it, Redtag makes it simple to do so. If you do not, we offer several solutions as explained below. For example:
Roll style 'Thermal Transfer' forms: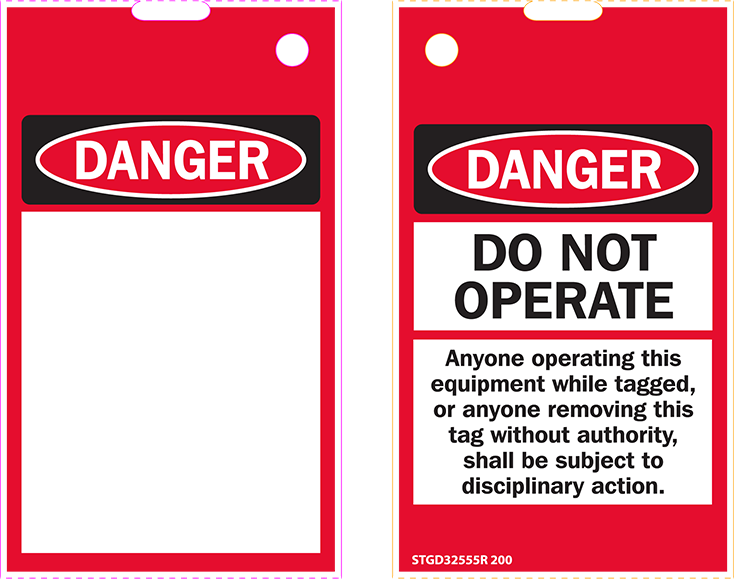 These tags are printed with special Thermal Transfer printers which we sell and suppor and are described below.
They are 3.25" wide by 5.5" high.
They can be purchased in either 200 tag rolls, which are printed using the desktop model of printer or 1000 tag rolls which are printed in the larger more durable printer also described below.
They are manufactured with tough polyester plastic and the inks used are special UV resistant inks that prevent fading if hung in direct sunlight.
Desktop Thermal Transfer Printer:
It prints to the Roll Style, Thermal transfer tags described above.
It has a small footprint and therefore can be easily placed next to the computer that will be used to issue Lockout/Tagout procedures.
It comes with a standard parallel, USB, and Ethernet interfaces so can be connected to virtually any printer port on your pc or network.
It produces virtually non-removable type on a highly durable tag substrate.
Since the tags are in rolls, there is no wastage if you only want a single tag, and they do not stick together as sometimes happens with sheet tag forms in a laser printer.
Redtag will support as many tag printers as you can connect to your system, so you can utilize as many different tag form types as necessary by using one printer for each type of form that you may use.
It's quick, printing up to speeds of 4 inches per second.
It has a low cost of ownership.
Larger, more durable Thermal Transfer Printer:
Prints the 1000 tags per roll, roll style thermal transfer tags described above.
Comes with Parallel, USB, and Ethernet interfaces and can be placed anywhere on your network.
Prints at speeds up to 3 tags per second!
If this page does not answer your tag printing related question or concern, feel free to request further information, or to email us at support@instamation.com.